Intelligent Direct Mail with USPS®
Informed Delivery
Welcome to the forefront of mail innovation – USPS® Informed Delivery, a service that revolutionizes how recipients interact with your mail. Informed Delivery brings a seamless bridge between the physical and digital worlds to a large captive audience that has some of the highest open and interaction rates of any communication service.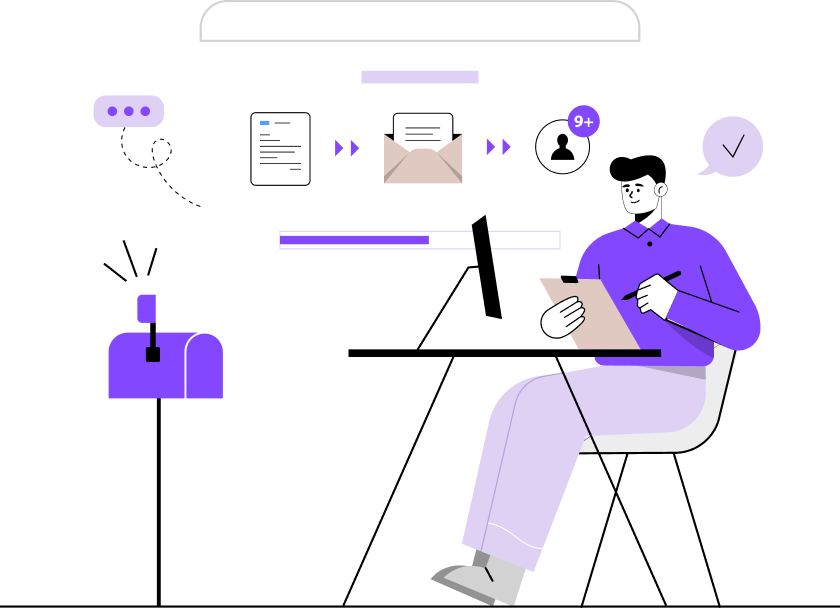 A Glimpse into the Modern Mailbox
Imagine having your recipients preview your incoming mail campaign and interact with it from anywhere, anytime. Informed Delivery does just that by providing recipients with a digital preview of your incoming mail and packages. Recipients receive a grayscale image of the exterior of letter-sized mailpieces or a color image with your custom message along with a ride-along image and a Call-To-Action link. This digital preview arrives in your recipient's email inbox on the same that that the mail is expected to be in-home.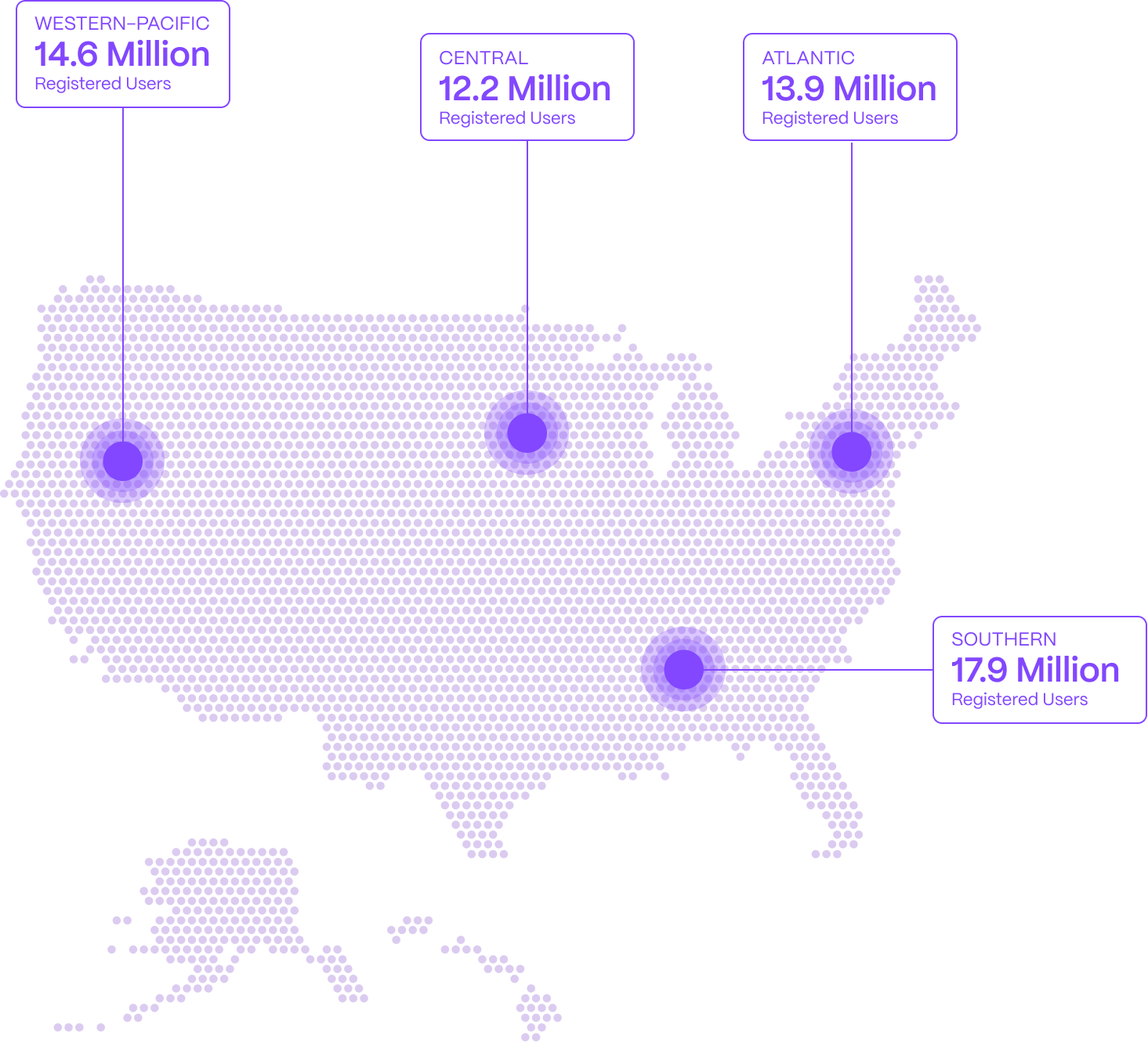 | Click-through Rate | Open Rates | Campaign Impressions | Sign Ups |
| --- | --- | --- | --- |
| 1.3% | 68% | 1.4 Billion | 58,709,904 |
Elevate Your Marketing Strategy:
Informed Delivery's Advantages for Direct Mail Marketers
Informed Delivery is a game-changer for direct mail marketers that are looking to further enrich their campaigns.
Enhanced Visibility:

With Informed Delivery, your mailpiece gains an additional touchpoint. Recipients see a digital preview of your mail before it even arrives, making your brand more memorable.

Multichannel Engagement:

Take advantage of the digital space to reinforce your message. Combine physical mail with a synchronized digital campaign to engage customers on multiple levels.

Cost Efficiency:

By targeting specific prospects based on predictive models, your business optimizes marketing spend by investing resources in channels and prospects with higher conversion potential, resulting in cost efficiency and improved ROI.

Call to Action Integration:

Informed Delivery allows marketers to include interactive elements, such as clickable links, coupons, and promotions, directly in the digital preview. This boosts engagement and encourages immediate action.

Data-Driven Insights:

Gain insights into user engagement with your mailpieces. Informed Delivery provides data on the number of users who viewed your digital previews and clicked on interactive elements, helping you refine your strategies.
Non-Interactive Informed Delivery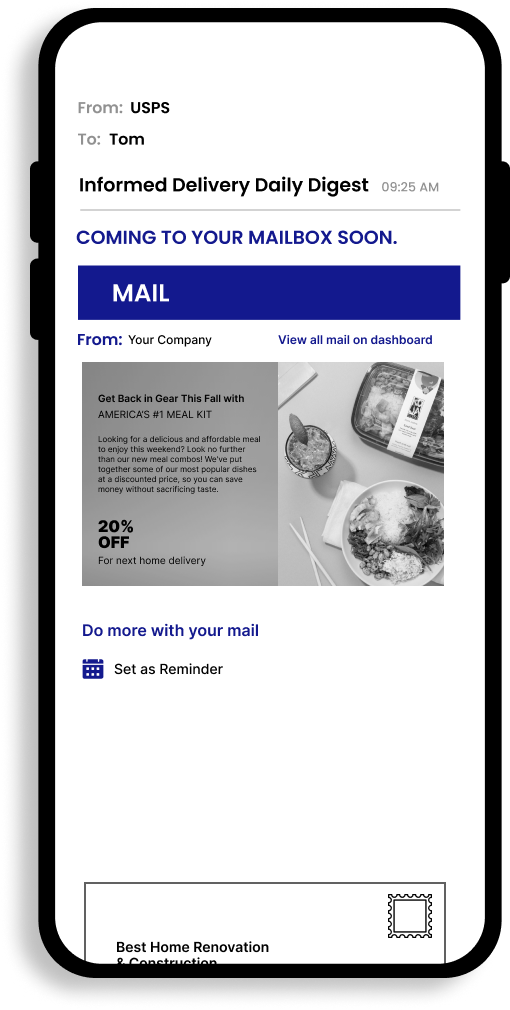 Interactive Informed Delivery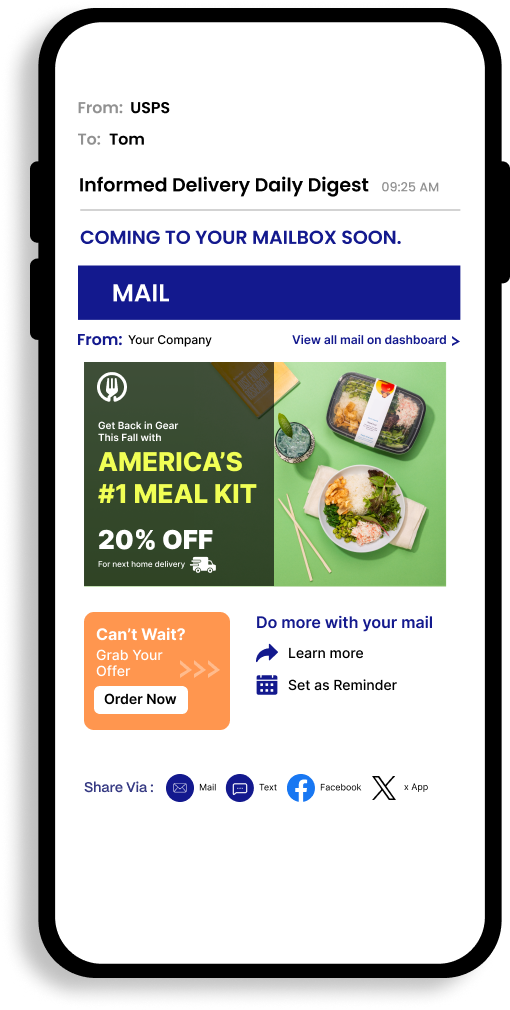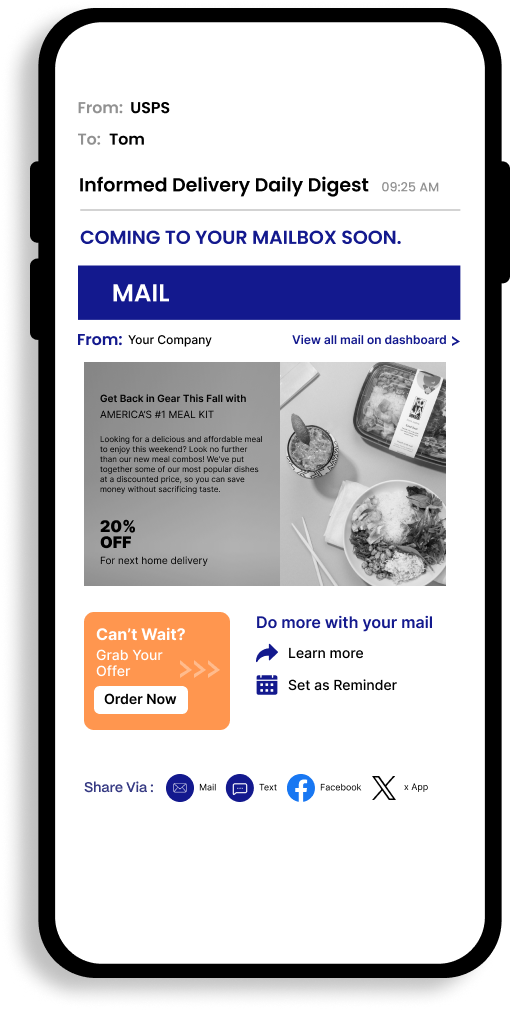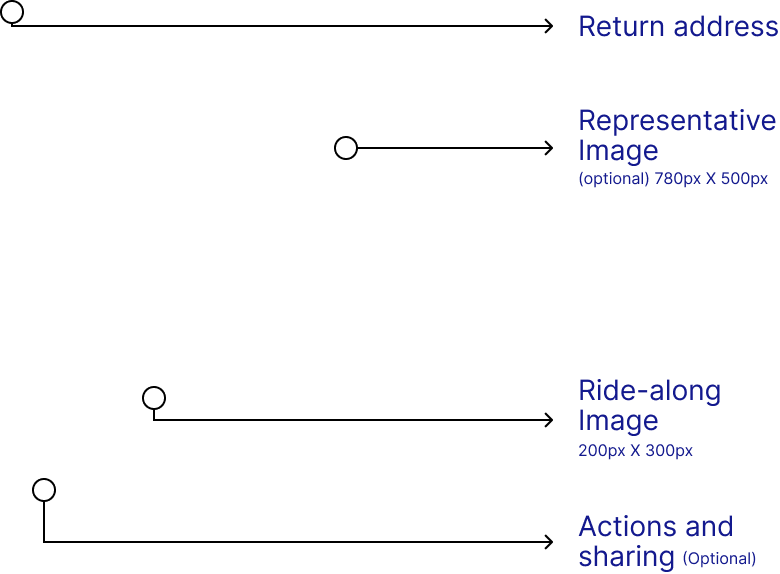 Data-Powered Success:
Realizing Results with Informed Delivery
Unlock the power of data-backed results that redefine success for marketers who embrace Informed Delivery. Let's dive into the statistics that showcase the extraordinary impact of this service.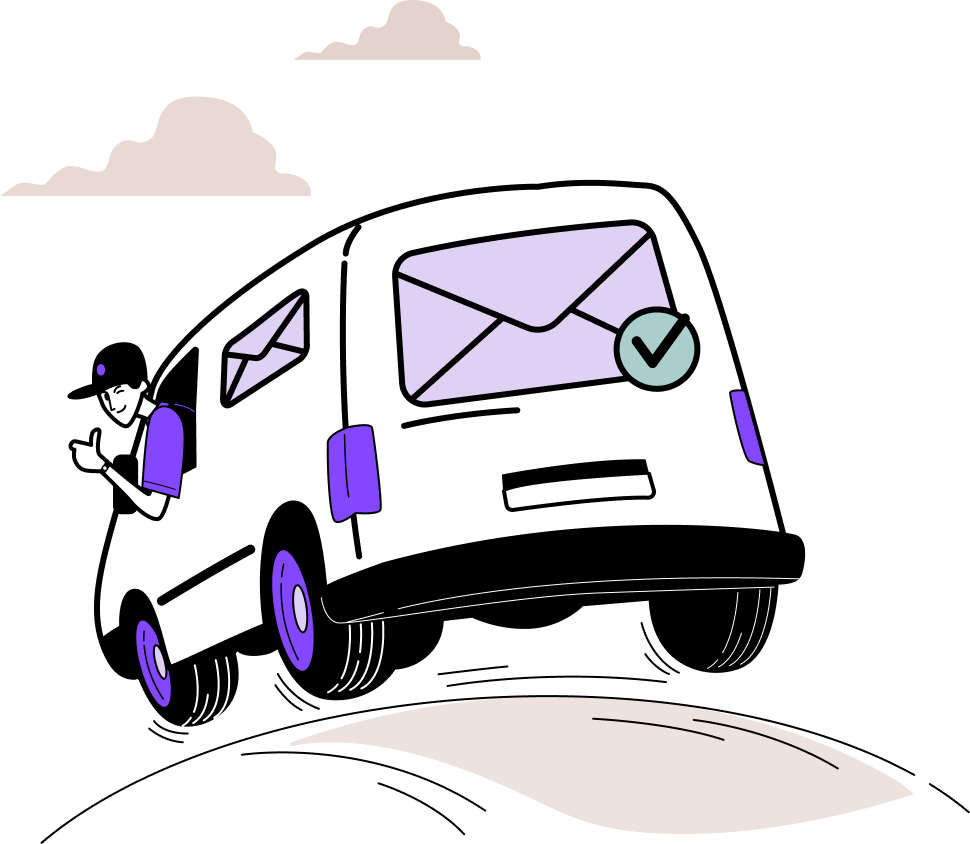 Engagement Redefined:
Informed Delivery campaigns boast open rates soaring beyond 68%, marking a remarkable achievement in audience engagement.
Response Revolution:
Experience response rates up to 30% higher than traditional campaigns, a testament to the fusion of physical and digital engagement.
Measure What Matters:
Immerse yourself in measurable impacts, using comprehensive reporting to refine strategies and enhance future campaigns.
Metrics that Matter: Navigating the Landscape of Informed Delivery Campaigns
Informed Delivery's magic lies in its metrics – hard data that fuels performance evaluation and strategy refinement.

Broad Reach
Over 40.8 Million Households are currently enrolled for the Informed Delivery Service and this number is growing daily. This makes Informed Delivery one of the largest verified captive audience available to marketers in the United States.

Opening Minds & Emails
Witness email open rates surpassing 68%, highlighting the initial magnetism of Informed Delivery's digital previews.

Clicks That Count
Delve into click-through rates of around 1.3%, showcasing the compelling allure of interactive content within the preview.

Engagement Amplified
Experience digital interaction rates reaching 7%, a testament to the engaging synergy between physical and digital realms.

Conversions Unveiled
Trace conversions resulting from the Informed Delivery call to action – whether it's coupon redemptions, site visits, or direct purchases.
Embrace the Future Now: USPS® Informed Delivery with Geofactor
Informed Delivery isn't just about mail; it's about connection, engagement, and anticipation. Seamlessly merge the tactile and the digital for a mailbox experience that leads to higher conversions and ROMI on your Direct Mail spend.
Geofactor enables seamless set up and tracking of Informed Delivery Interactive Campaigns right here on the platform, turning your Direct Mail campaign into a multi-channel campaign with the flip of a button.

Easily set up your Informed Delivery Interactive Campaign by adding representative images, ride along images, and click-through URLs.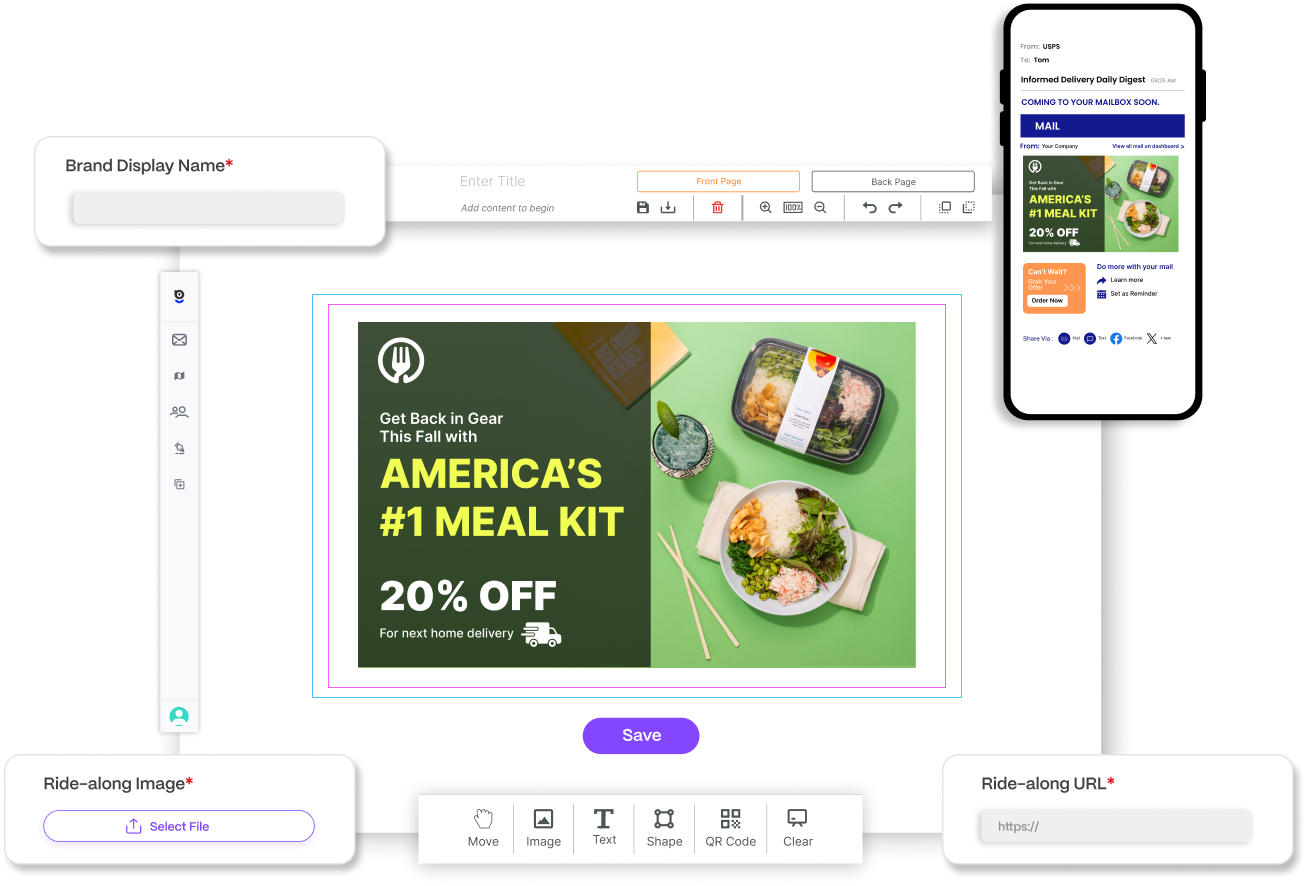 Get Insightful Post Campaign Analytics
The Geofactor platform is fully integrated with the USPS® for campaign set-up and campaign analytics. Once the campaign is deployed, you can access your campaign performance data right here on the platform with access to robust engagement analytics with metrics including
Emails delivered
Emails Opened
Click Through Rates
List of mailing recipients that have interacted with your campaign
Easily export detailed reports to increase your conversation rates by using this intent data to set up drip campaigns and other outreach for engaged audiences.