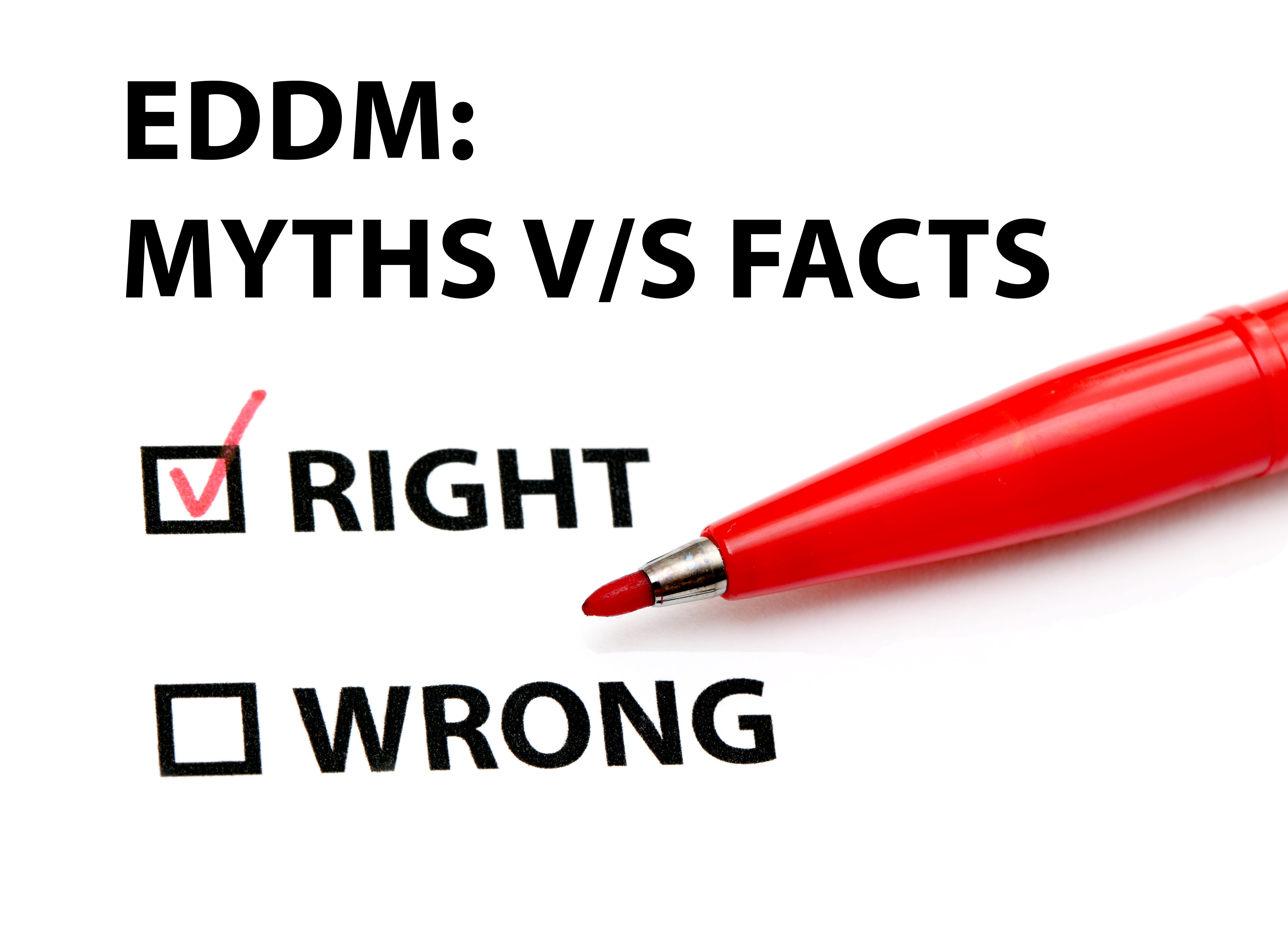 While Every Door Direct Mail® has been around for years, many local marketers still have misconceptions about the advertising channel.
Is it the more affordable direct marketing option?
Does it get results?
Is it easy to implement?
Let's break down the most common EDDM myths and facts.
Myth: EDDM has low response rates
Fact: EDDM beats digital channels in response rates
On average, people see 4,000 to 10,000 ads per day.[1] It is already a challenge to be noticed as a brand, and the chances of getting responses are even lower. Sure, digital adverts seem cheaper and easy to implement, but they generate much lower traction. Most businesses cannot thrive on online marketing alone, and need a marketing mix consisting of offline as well as online channels.
Businesses are more likely to have an increase in response rates with direct mail. EDDM mailers are ideal for reaching your audience directly and creating brand awareness. You can keep targeting the same neighborhoods to maximize your chances of getting responses. Think about the feeling you get when you receive a package at your doorstep. Direct mail can elicit the same kind of effect among your audience.
Myth: EDDM has lower retention rates
Fact: Mailers are highly memorable
Marketing experts say that it takes seven impressions in 18 months for prospective customers to remember you. Retention chances are much higher since the same neighborhoods get targeted repeatedly. Elements such as multiple headlines, sectioned information, and high quality visuals come into play to create a mailer worth being recalled by your prospective customers.
Myth: EDDM loses you money
Fact: EDDM saves you money
Any marketing channel, when used effectively, can give you positive results. The underlying issue with failed EDDM campaigns is the lack of proper targeting. You can't expect your campaign to succeed when you target an audience where most people are uninterested in your offering. EDDM®, as a primary marketing tool, is cheaper than most direct marketing alternatives. You can save even more on implementation and analytics with EDDM vendors.
When you analyze the most responsive geographic areas according to your industry, you can save a lot of your carefully planned out marketing funds.
Myth: EDDM is untrackable
Fact: EDDM can be tracked easily
When tracking physical mailers, a lot of people have the misconception that the entire tracking process needs to be done on paper as well.
EDDM® marketing is easily trackable by measuring your response rates through phone numbers, URLs, QR codes, coupons, etc.
Here's how you can calculate your responses –
Track calls by setting up toll-free numbers
Include campaign-specific URLs that lead to a landing page on your website
Include online or store-redeemable coupon codes where each redeemed code is marked as a conversion
Take people directly to your desired web page with QR codes whenever they scan it
Myth: EDDM is the same as targeted mailing
Fact: EDDM is suitable for local targeting
This is one of the most widespread misconceptions when it comes to EDDM myths and facts. EDDM® is viable when you want to gain footfall from all the neighborhoods within your service area. Instead of individually targeting households, your mailers are delivered to specific geographic areas. Neighborhoods are targeted based on demographic data.
Myth: EDDM is labor-intensive
Fact: EDDM campaigns are easy to create
EDDM vendors can take the weight off your shoulders by providing you with design services, targeting advice, etc. It takes less than 10 minutes when you use the online mapping tool to create and deploy your campaign. You can create EDDM campaigns from the comfort of your home with three simple steps –
Design
Audience Selection
Campaign Scheduling
Myth: Non-profit authorization for EDDM is unbeneficial
Fact: Any legible non-profit company can greatly benefit from EDDM
A non-profit authorized organization can opt for non-profit postage easily by submitting the PS Form 3624 and supporting documents. The postage rates for non-profit businesses are considerably low, and can help them with additional savings compared to Direct Mail. You can get your non-profit EDDM® permit within a few days after submitting the required documents.
Myth: Mail marketing is not trustworthy
Fact: Mail marketing gives you better credibility
Numerous studies have shown that people not only engage with physical mailers, but also trust them more than digital ads. People born in the age of the internet know how to tune out distracting advertisements. They are practically bombarded with digital ads throughout the day.
Mailers, on the other hand, elicit a personal touch due to their tangible nature. Physical mailers are more credible because people feel more invested in personalized experiences.
Every business faces challenges while achieving their marketing goals. While the myths originate from failed marketing attempts, it is imperative to have proper knowledge about the channel first. It can save you a lot of time, money and effort.
We hope we were able to shed some light on the most prevalent EDDM myths and facts, and give you a new perspective on EDDM marketing.
Start Your Own EDDM Campaign Now
References:
[1] Forbes