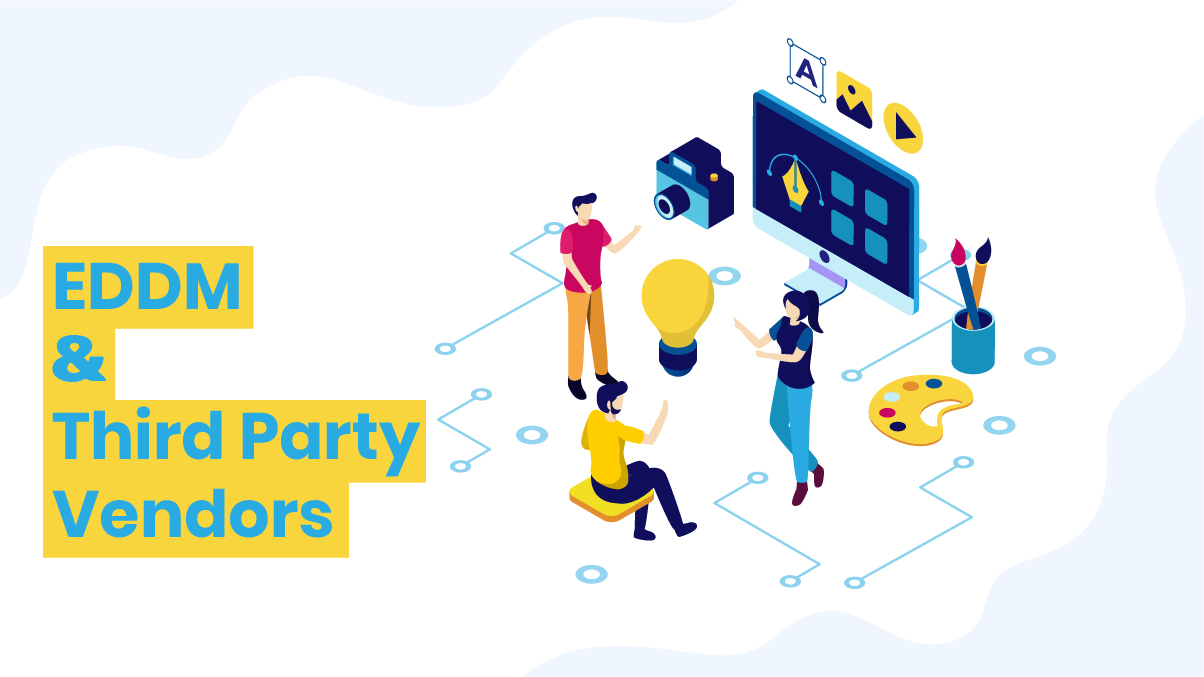 Every Door Direct Mail® is ideal when you want to target the same neighborhoods regularly to maximize response rates. One of its key advantages is the ability to generate responses in localized markets with people most likely to purchase from you.
When creating an EDDM campaign, several factors come into play, such as selecting your target audience, designing your mailer, printing, bundling, distribution, etc.
While most EDDM vendors can provide you with an end-to-end service comprising all these processes, you can still opt for third-party agencies for your campaign.
Let's take a look at some key players who make EDDM campaign creation simpler:
Full-fledged marketing agencies
A full-fledged marketing agency provides a multitude of services. With a marketing advisory, you can make the best marketing decisions for your business. They can provide you with extensive services such as audience targeting, design, printing, etc. All you need to do is drop off your mail bundles to the Post Office when your campaign is ready to be launched.
They can also help you analyze new data such as response rates, average purchase rates, etc. They can provide you with approximate data based on your return on investment and help you use the campaign's performative data for future EDDM campaigns.
1. Audience Selection
Audience targeting agencies
You can hire specialized targeting services to choose your audiences. Since EDDM® allows you to choose mailing routes based on demographics, these agencies can help you target your ideal audience. They can target responsive audiences based on age range, household income, household size, etc.
For small campaigns with minor audience variation, you can hire small-scale marketers such as individual businesses, freelancers, etc.
2. Design
Full-fledged design agencies
Full-fledged design services only need the design's size requirements and creative directions. They can make the design process simpler by delivering industry-specific designs based on your chosen size. They are ideal when you're running multiple campaigns simultaneously as they can provide you with multiple designers at the same time.
Small-scale designers consist of freelancers, individual professionals, and creative agencies with less than two artists. They are suitable for small campaigns and when you need quick deliveries.
Direct Mail design agencies
Some agencies specialize in creating mailer designs. You can choose from a variety of their offered templates or make a custom requirement. The designs are offered based on the official EDDM mailer sizes.
3. Printing
Printing and mailing agencies
EDDM® printing vendors get your designs printed based on your choice of paper. The most common paper types generally used for EDDM are:
Printing:
Printing agencies provide USPS-compliant EDDM designs using the appropriate paper sizes and quality. Your mailers are mass-printed according to your campaign size.
Bundling:
The mail pieces are bundled into stacks that are 6" high and sent back to you for stamping.
4. Postage rate calculation
Postage rates for EDDM® fluctuate from time to time. Many online vendors can keep you updated with the postage rate changes, and help you calculate your total postage costs accordingly.
Online vendors can tell you your postage expenses within minutes, free of charge or at nominal prices.
5. Drop-off & Delivery
Once all of the above steps are completed, your mail pieces are stamped and sorted for delivery. The bundles are sent to the Post Office to be delivered to the respective ZIP codes.
6. ROI calculation
Plenty of EDDM ROI calculators are free and available online. These vendors can help you measure your campaign's ROI based on response rates, average conversions, repeat orders, etc.
Although third-party EDDM vendors can be cost-effective as individual services, in the long-run EDDM vendors can help you save on your marketing budget.
Let us take care of your entire campaign – from paperwork to measuring your campaign's performance.
Take your pick from a variety of industry-specific designs, or hire a design expert. You can also use your saved data for improved targeting for future campaigns.
We will take care of your entire campaign, from paperwork to measuring your campaign's performance. Take your pick from a variety of industry-specific designs, or hire a design expert. You can also use your saved data for improved targeting for future campaigns.