In a world where digital marketing is the most popular marketing tool, it is easy to forget about traditional marketing methods that continue to provide significant ROI. EDDM® emerged in 2013 as a boon to budget-deficient small business owners to market themselves within their service area.
We still come across the question, "Does EDDM really work?"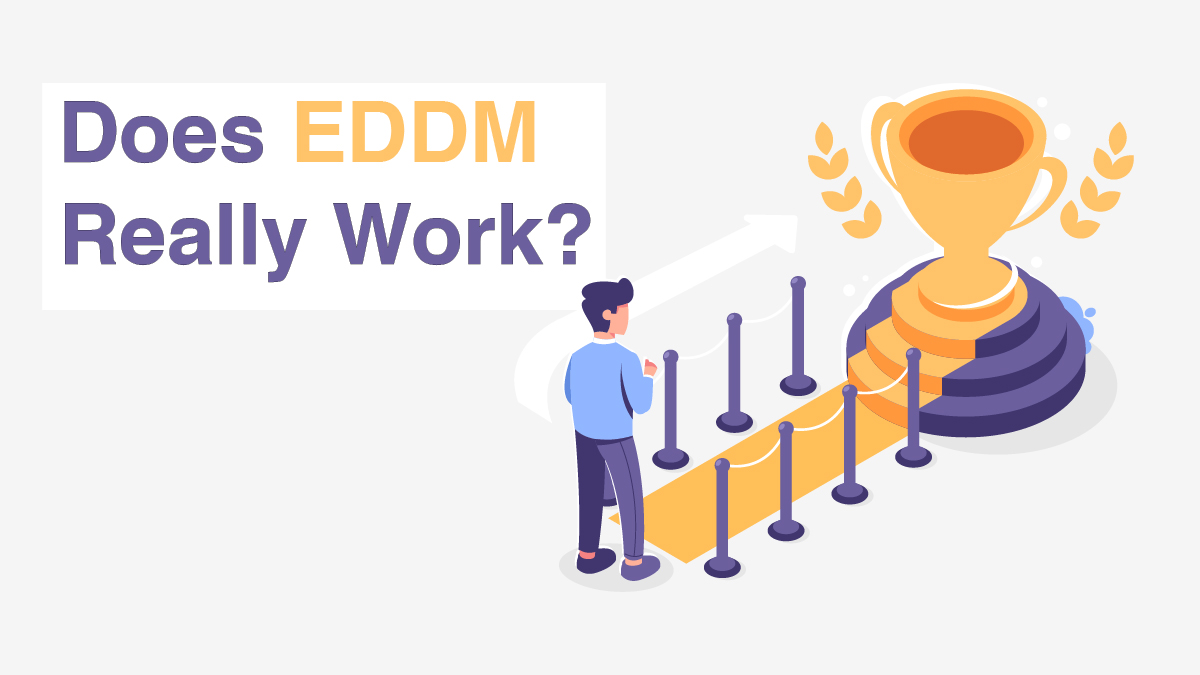 We'll let these following EDDM statistics speak for themselves.
1. EDDM recipients spend 28% more than people who didn't receive that specific mail piece.
Your audience is constantly reminded constantly of your brand name and marketing message by keeping the mail piece in the house for days on end. This makes them more likely to learn more about you through your website or visit your store.
People are more likely to buy your product when they've received a direct mail piece for it, rather than just seeing it in your store and buying it by themselves.
2. EDDM offers a 29% ROI, which means you get a profit of $145 for every $500 spent.
According to Marketing Charts, While all social media efforts for a business together give a 30% return on investment, direct mail alone has provided an ROI of 29%.
3. Large mailers have the highest response rates.
Opting for oversized mailers can give you a higher chance of getting customer responses. Even the largest postcards have a 4.25% response rate, whereas flyers larger than that earned a response rate of 5%. The postage rate for EDDM mailers of all sizes is the same and is as low as 18 cents.
4. EDDM has a lower cost per lead than other marketing channels.
EDDM® saves you money because –
You don't need to create mailing lists
The postcards cost little to print as it is a bulk marketing channel
The postage rate is lower than other mailing methods
The postage rate is the same for all postcard sizes
You don't need a postal permit for mailings under 5,000 pieces
You'll find your CPL is several dollars less than other marketing channels due to its low production cost and high-profit margin.
5. Approximately 42.2% EDDM recipients either scan or read their mail.
Digital marketing can be cheaper at first, but you can end up spending a lot of money getting single customer leads. It is easy to ignore, whereas direct mail has higher chances of being read by your recipient. Even people who don't check their mailbox regularly clean them out once in a while. Simply getting your EDDM mailer in your recipients' hands can increase the likelihood of your marketing message being read and remembered.
6. Most customer conversions are made within a 5-mile radius of the business' service area
With EDDM®, you can use a cohesive marketing strategy to target all the mail routes within your market area. EDDM is optimal for gaining a steady local footfall with its simple approach to targeting entire geographic areas.
7. EDDM mailers are kept in the household for 17 days on average.
People tend to throw out marketing mail from the household after 17 days. EDDM postcards are often left around the residence in common living areas. This gives the entire household plenty of time to read and understand your brand's marketing message, and in turn, helps them remember you. This is a direct mail fact that also encompasses EDDM statistics, as it is a type of direct mail.
Since the question, "Does EDDM really work?" is answered, let us tell you why small businesses prefer EDDM for local marketing compared to other advertising channels.
Your EDDM campaign can be as broad or targeted as you want. You can easily test your marketing initiatives within a single market area to gauge their effectiveness.
You can also create extensive campaigns as a large corporation by including entire cities or multiple mail routes in a single mail cycle.
EDDM is affordable
EDDM was created to help small businesses market themselves in their service area to increase their daily footfall. The best part is that they only pay for the carrier routes they choose, so there's no need to pay for irrelevant addresses that won't bring you any responses. They can also add or exempt businesses and P.O. boxes from the mail routes.
EDDM doesn't limit creativity
The USPS®-specified EDDM requirements allow a wide range of sizes that can be formatted based on your marketing objectives. There are benefits to every single mailer size and several design elements can be used to create an influential marketing message.
These EDDM statistics and facts should help you better understand the nuances of EDDM marketing and why it is still relevant in 2021 for small businesses.