Every Door Direct Mail® is a USPS®-offered direct mailing channel that originated in 2016. It enables businesses to reach prospective customers without knowing their postal address. EDDM for large businesses is a bulk-mailing preference that allows you to mass-deliver campaigns without the extra effort of measuring each individual response.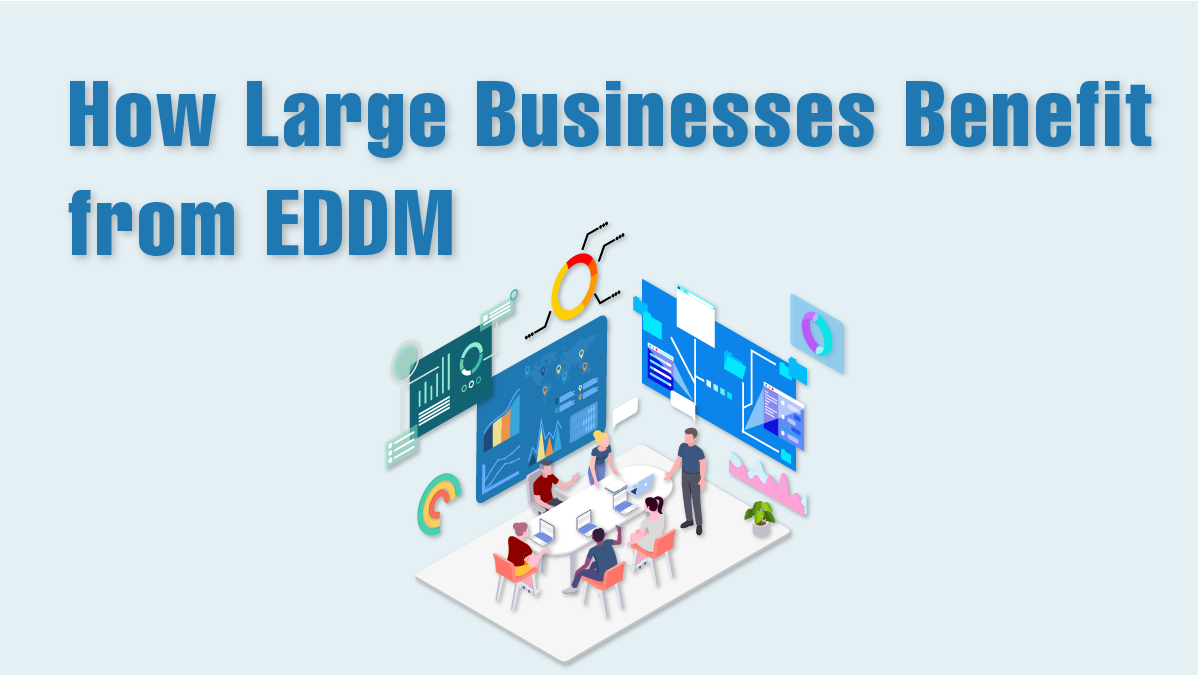 Here's how large businesses can benefit from EDDM:
1. By Improving Digital Marketing efforts
Digital marketing channels allow you to expose your brand to a large audience. Still, they may lack a personal touch as people know that they are simply one of the many prospective customers you are reaching out to.
Several studies have shown that you can get better response rates by integrating digital marketing and physical marketing in your strategy. The chances of brand retention increase greatly when your marketing message reaches your target audience through multiple channels.
2. Enhancing credibility
Direct mail is multi-sensory as it can take advantage of almost all the five human senses.[1] People trust things better when they can feel various aspects of them.
73% of Americans prefer physical mail over email or online ads. They like reading EDDM postcards at their convenience. Also, most adult Americans look forward to reading factual information every day. Thus, EDDM® is preferable for most audiences compared to any other marketing channel.
3. Increasing brand awareness
EDDM postcards don't just help you reach bigger target markets but also stay with your customers for a while. On average, an EDDM flyer stays in a household for 17 days. You can develop a long-term relationship with customers in your selected geographic areas and help enhance brand loyalty as well.
4. Reaching scalable audiences
EDDM audience selection is straightforward as your mailers get delivered to every household of your preferred mail routes. You can target your customers based on basic demographic data provided by the USPS, such as age range, household income, presence of children, etc.
Your campaign is mass promoted to a wide range of customers at affordable prices instead of targeting specific people looking for your particular set of services. This is one of the best examples of how large businesses can benefit from EDDM, as you ultimately spend less money while reaching more customers.
Campaigns with less than 5,000 mail pieces per neighborhood don't require postal permits. If your postcards exceed this limit, you can simply opt for USPS® authorization for extensive campaigns.
5. Standing out from the crowd
Did you know? Even tech giants like Google opt for direct mail marketing to stand out against competitors and get traction from varied audiences.[2] This is simply because the contest for viewer attention is much lower in the mailbox, with fewer mailers from businesses in the same niche.
6. Taking advantage of lower costs of production
The USPS® EDDM® offers lower production costs and postage rates for EDDM® compared to Traditional Direct Mail. Digital marketing channels can also cost you a significant amount to obtain leads, let alone increase conversion rates.
The postage price is the same for EDDM mailers of all sizes. So huge businesses can send out mailers in large quantities at a lower expense.
EDDM performance is easier to track with QR codes, PURLs, specialized phone numbers, website links, etc. You can calculate the number of clicks, calls, and visits for each contact medium.
Landing pages are the best when using EDDM for large businesses. With a responsive web page design, you can let your audience interact and know more about your product or service.
EDDM for large businesses can give you the needed firepower to boost your primary marketing efforts and reach wider audiences. It is a cost-effective marketing channel when you are looking for local customers or promoting smaller campaigns, while larger EDDM campaigns can be carried out with a postal permit.
We hope we could give you a deeper insight into how large businesses can benefit from EDDM.
References:
[1] Neil Patel
[2] LinkedIn