Every Door Direct Mail®, the USPS®-authorized service that originated in 2016, has proven to be an effective local marketing channel. Also abbreviated as EDDM®, it gives businesses of all sizes a straightforward approach to reaching as many people as possible.
However, as simple as the channel is, some common EDDM mistakes marketers make during their campaigning journey may result in less than ideal outcomes.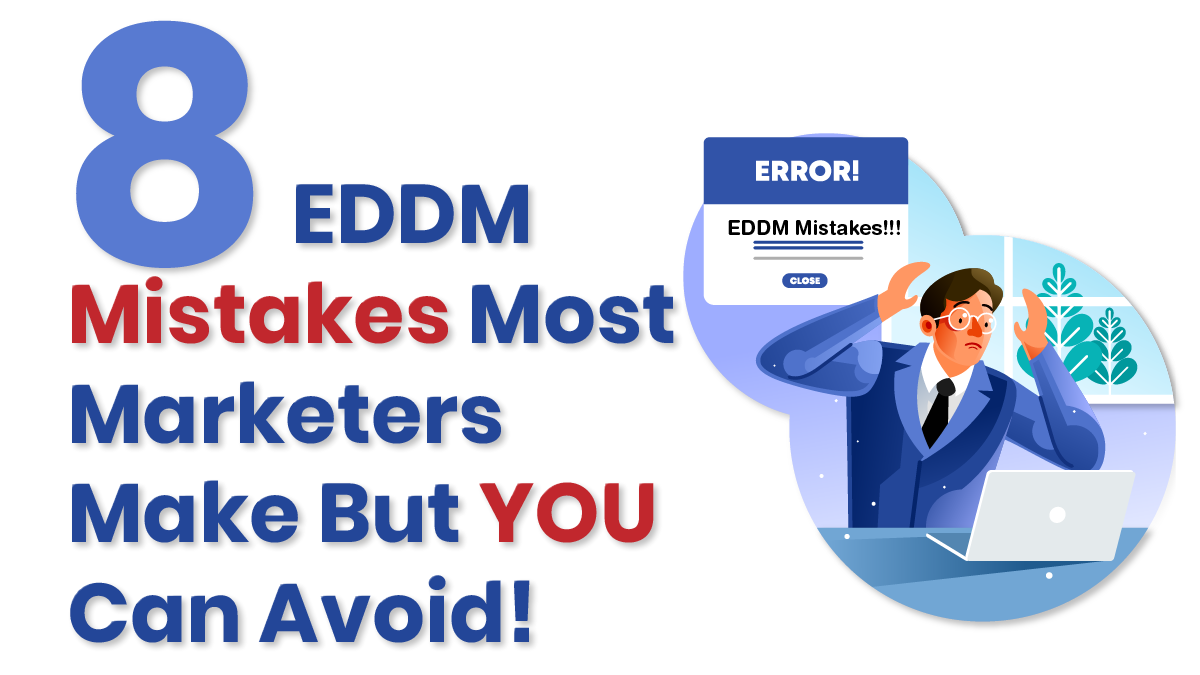 Here are 8 EDDM mistakes you should avoid to ensure that your first campaign is successful:
1. Becoming a part of the noise
It is imperative to have an attractive design with distinct marketing messages. Otherwise, you risk being 'one of the many' in a sea of postcards within the mailbox. This is one of the top-most concerns with EDDM mailers, as it is easy to get lost in a chunk of direct mail flyers.
2. Being too impersonal
EDDM® allows you to send identical postcards to areas of your choice based on demographic data. This means EDDM mailers don't contain individual information such as recipient name, recipient address, greetings with the recipient name, etc.
But this doesn't have to be a limitation when you can give your postcards a personalized touch unique to your brand. You can write your EDDM postcards' copy with a distinct tone of voice that is friendly yet professional, helping you genuinely connect with a prospective customer.
3. Knowing your ideal audience's worth
When you're sending out an EDDM campaign, your first goal should be to reach your 'ideal customer'. If you're unsure about the potential value of customers within a specific ZIP code, you could end up spending your marketing budget for nothing.
Ensure you know what your best customer is like, and target neighborhoods basis this information.
4. Skipping audience research
This is one of the most common EDDM mistakes that marketers make. Most businesses will just send out mailers to areas around their business's location at cheaper postage rates.
EDDM® provides you with basic audience demographic data such as age range, household income, presence of children, etc. You must ensure you have done adequate research on what kind of customers you should target. If you haven't identified your target area yet, you can learn a lot by studying the mailing routes right around your business's location.
5. Vague messaging
Being too obtuse with your messaging can make your customers unsure about who you are and what you offer. When creating an EDDM mailer, understand the goal of your campaign and craft your marketing message accordingly. Ensure you tell your audience exactly what they need to know about your service offerings without an overuse of words and text space.
6. Using jargon
There should be a balance between being vague about your message and being too specific. The former makes it hard for your audience to understand your brand, while the latter is too specific due to the usage of industry-specific words, and only certain people can decipher what you're saying.
Find a tone of voice that is explanatory, business-like, and concise. Make sure your marketing message is not too text-heavy and can be explained with simple words.
7. Mailing at the wrong times
The best way to maximize your brand awareness is to mail at times your audience is actually in their house and likely to check their mailbox. Avoid holiday mailings or weekend deliveries to ensure your mailer reaches your customers at the right time when your offers are relevant and can be claimed. It's no use sending out mailers when your audience won't see it at the appropriate time.
8. Not using a professional service
If you're unsure about creating an entire EDDM campaign by yourself, don't make the mistake of diving in headfirst to try this USPS service. Several mistakes could end up with you throwing away your valuable marketing funds.
For example, printing mailers that don't match the USPS® guidelines, incorrect stamping, too much time and money on attaching EDDM face slips, etc.
Look for professional input from USPS®-authorized EDDM vendors to guide you through the campaign creation process.
Geofactor can help you get the paperwork done, provide you with attractive mailer designs, print and bundle your mailers, and send them directly to the USPS to be delivered.