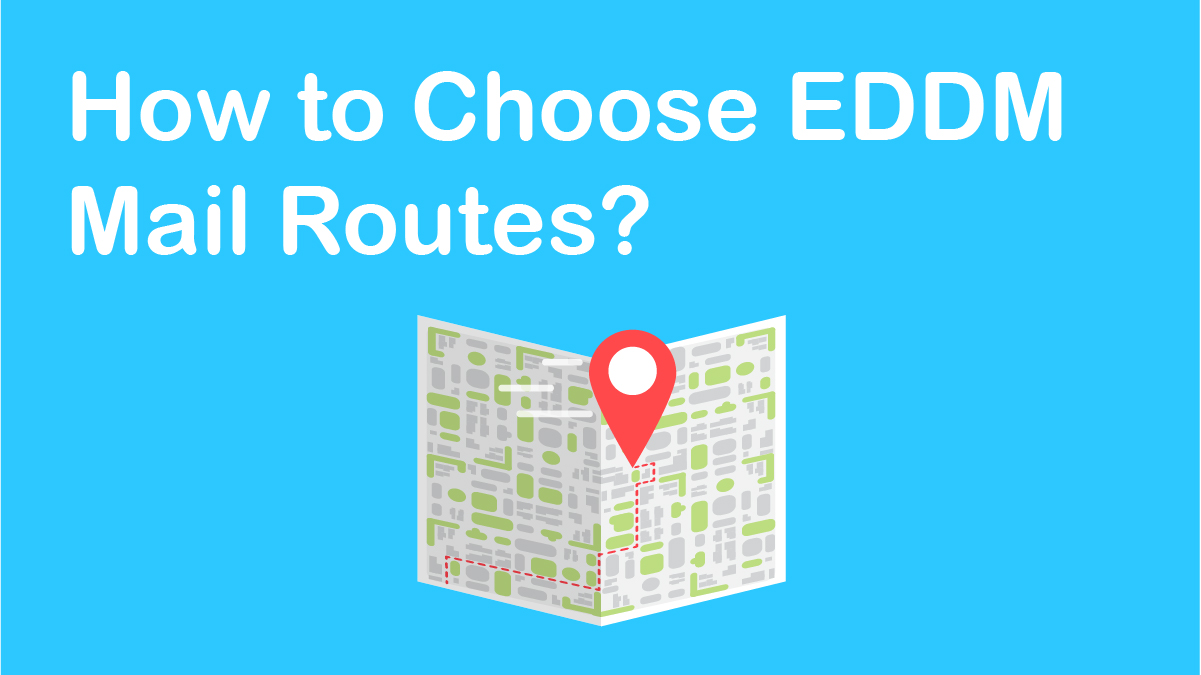 Every Door Direct Mail® allows you to target specific geographic areas based on demographic data. Using this marketing channel, you can identify which ZIP codes, neighborhoods, and carrier routes are the most receptive to your advertisement.
Not to be confused with a mailing list, the USPS® EDDM® is based entirely on mailing routes. Your mailer is delivered to all the households of your chosen neighborhoods.
Once you've identified the areas you want to target, you can send your mailers to residences exclusively, or you can include businesses and P.O. boxes too.
This blog will explain how to choose EDDM routes and implement a marketing strategy based on neighborhood data.
Search for Routes
Use the EDDM® Online Tool to search for your ideal mailing routes based on neighborhood demographics.
You can also use Geofactor's online mapping tool to target your preferred audiences easily.
Find a Printer
You can pick a registered EDDM vendor to get your mailers designed and printed. Your flyers will be delivered to your respective Post Office after stamping.
Geofactor is a USPS-authorized EDDM service that can provide you with pre-designed postcard templates, or deliver custom requirements.
The USPS EDDM allows you to analyze specific demographic information such as household income, household size, age ranges, etc. to target the most responsive audiences.
Let's discuss how these parameters help in segregating your target market.
How to Choose EDDM Routes:
1. Age range
Your recipient's age can give you an idea about their responsiveness to your mailer.
For example:
Adults in the age group of 25+ years are more likely to respond to ads like lawn care, home remodeling, etc.
People aged between 40 to 60 years are more responsive to real estate flyers since they have the funds and time to invest in properties.
2. Income
Are you looking for a high-end local audience for your business? If so, targeting neighborhoods with high-income households will get you a much better response rate. If you're looking for households with lower income levels to promote affordable offers, EDDM® can help you reach them easily as well.
For example:
A household with an annual income of $80K is more likely to visit a luxury spa.
Motor services are sought by people who already own cars, so generally, their annual income should be around $100K to $300K.
Local restaurants can promote their low-priced dishes to people looking for quick bites at cheap rates.
3. Number of family members
For family-based discounts and offers, it's essential to target households with a certain number of residents.
For example:
Pools and spas can invite entire households by promoting persuasive family deals.
4. No. of businesses & No. of residences
It is imperative to know how many residences and businesses are present in your chosen mailing routes. You can exempt businesses from getting your mailers or include them if they're likely to make a purchase.
For example:
You can send out legal service ads to households and businesses alike.
Marketing/Advertising firms can send mailers to households and businesses alike.
5. Distance from home
80% of purchases from small businesses are made by locals within a 10-mile radius. The closer your prospective customers live to your business, the more likely they are to visit you.
For example:
A grocery store will first target customers in its closest proximity as they are more likely to visit regularly.
Churches target locals living closest to them for a better footfall.
We hope we've answered how to choose EDDM routes and use demographic data for strategic targeting.
Choosing a responsive audience can be challenging, and it's not a one-hit goal.
This is where Geofactor comes in!
From concept to delivery and even follow-up marketing, our EDDM® experts are ready to answer all your questions and can help you reach your ideal clients.