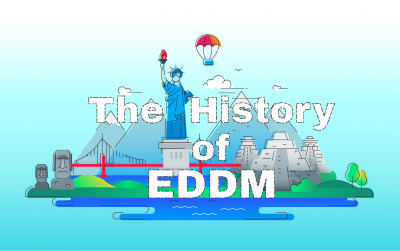 Every Door Direct Mail® is a direct mail marketing channel provided by the United States Postal Service®. It allows you to reach potential customers without the need for mailing lists. It is a fairly new marketing channel compared to other direct response mediums.
Let's discuss its origin and understand why it was designed.
The History of EDDM
Every Door Direct Mail, abbreviated as 'EDDM,' is a direct mail service that allows you to reach local audiences cost-effectively. As the name suggests, your marketing material reaches every mailbox of your preferred geographic area.
EDDM® was founded in the year 2013 by the USPS. Considered a type of bulk mailing, it allows you to mass-send identical mailers at lower postage rates.
It was created as a cheaper alternative to Traditional Direct Mail for small businesses lacking the funds to market themselves efficiently. Companies trying to reach local audiences within their service area benefit more from this channel, as mailers reach all the households of their targeted neighborhoods.
When it came to targeting, Direct Mail was time-consuming as mailing lists were required to reach specific households that would most likely respond. EDDM®, on the other hand, gave marketers free access to demographic data that allowed them to choose their mailing routes.
So while direct mail was highly targeted and the chances of garnering responses were greater, EDDM mailers reached the hands of a receptive audience, along with people who weren't actively looking for the specific marketed services.
It was proven to be cost-effective for three main reasons:
Small businesses saved time, money, and efforts without the need of curating a mailing list. There was no need to outsource audience listing services either.
Lower postage rates were offered for this type of mail, making it a practical means to save marketing costs.
The postage costs for postcards of all sizes were the same.
While discussing the history of EDDM, it is imperative to know that it was originally designed to cater only to small businesses.
It was later divided into two categories, namely 'EDDM Retail' and 'EDDM Business,' which was also abbreviated as 'EDDM BMEU'.
While EDDM Retail® was created for local businesses looking for prospective customers in their market area, EDDM Business® became ideal for large corporations sending out high volumes of marketing material.
Did it turn out to be a good choice for all small businesses?
EDDM® has always used a location-based approach to marketing. It was extremely economical for local businesses trying to get maximum responses from a market area. However, it wasn't considered the best channel for niche markets that required targeted customer demographics.
What businesses did it work well for?
Restaurants
Landscapers/Home-Improvement Companies
Furniture Stores
Supermarkets
Department Stores
Electronic Stores
Banks
Insurance Agencies
Real Estate Agencies
Healthcare Providers
Will it be suitable for my business?
Try answering these questions:
Does my product or service appeal to most people?
Could anyone, in a certain geographic area, be a potential client?
Does my business need to target audiences within specific neighborhoods?
Is basic demographic information enough to reach my target audience?
If the answer to all the above questions is 'yes', then EDDM could be highly suited for your business. The current postage rate is as low as ¢18 per mail piece, so it could be ideal for you if you're looking to maximize brand awareness.
We hope we were able to give you a deeper insight into the history of EDDM and why it was created. It can be a great 'multi-touch' direct marketing tool in an age where people are more receptive to traditional advertising.