EDDM®, a marketing service from USPS®, is one of the most affordable direct response advertising channels. It provides you with basic neighborhood demographic information about geographic areas in the United States.
One of the reasons for its proven success is that local companies trying to reach customers within their service area highly benefit from it. Finding an EDDM audience is much easier when you can send up to 5,000 mail pieces per ZIP code and don't need a mailing list.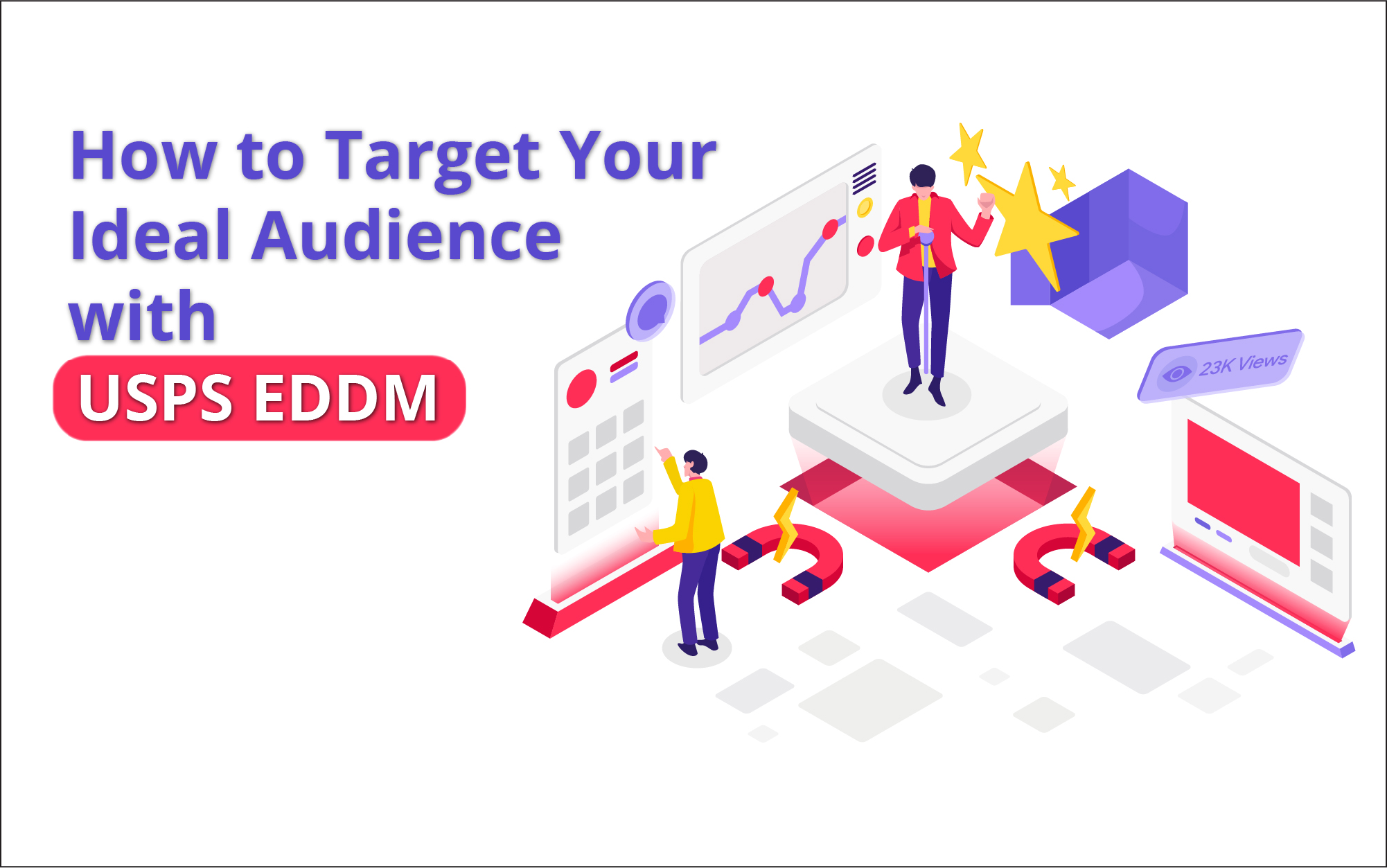 Here are a few of the best practices to help you select EDDM audiences for your campaigns:
1. Take advantage of demographic data
The USPS® EDDM® provides small businesses free access to mail routes' demographic data. These audience selection parameters include:
Number of household members
Household income (annual)
Presence of children
No. of businesses in the area
No. of P.O. boxes in the area
This basic demographic information provides enough insight for your local business to target a responsive audience. Choose your audience according to your industry and the type of customers you're trying to reach.
2. Customize offers based on your audience
Do your ideal customers consist of high-income households looking for first-class products? You can find mail routes with affluent people to market your service. You can also promote affordable discount coupons in areas where people are looking for pocket-friendly product deals.
3. Target by city
Finding an EDDM audience involves your customers' location to be the most important demographic factor for 'local marketing'. If your product or service can serve all of your city, you can start marketing your business by delivering EDDM flyers to the ZIP codes closest to your market area first. You can keep expanding your reach by targeting farther mail routes, post advertising to your nearest locals.
The best way to use this channel as a local business is to target 4-10 ZIP codes around your service area. If you type in your store's location in the online mapping tool, you can select all the mail routes surrounding you.
The USPS EDDM is ideal for retail stores, grocery shops, restaurants etc. looking to gain traction from their nearest customers.
5. Target areas you can mail to frequently
According to market research, your customer needs to see your advertisement at least 7 times before they can recall your business by name. Choose geographic locations which have the highest potential to house your ideal customers, and deliver mailers in regular cycles to make an impact. Ensure that you are reaching an audience that will respond to your ads more frequently.
Sending out EDDM flyers on a frequent basis can result in higher brand recognition and influence your audience to try out your services.
Logistically, targeting so many ZIP codes can be a nightmare if you're looking to use the USPS platform as a standalone tool. An EDDM vendor can make your entire EDDM campaign simpler with a straightforward online platform and exceptional customer service.
While finding an EDDM audience in itself isn't complicated, launching large-scale campaigns can be challenging with so much data to keep track of. It is important to ensure you don't spend your marketing funds on the wrong type of customers. It is also essential to select EDDM audiences that are the most likely to respond to your marketing message to increase your store's footfall and rate of conversion.
Geofactor can help you craft performative campaigns that give you the results you desire. Our experts can guide you through the best practices to target your ideal audience, design your campaign, and help you with integrated marketing as well as retargeting.