Every Door Direct Mail® is a more affordable alternative to Direct Mail. Most businesses use this marketing channel to benefit from its cheaper postage rates, easy targeting, and high customer reach.
It is easy to get confused about which EDDM mailer size to use for your marketing campaign with so many variants available, each with its unique benefits.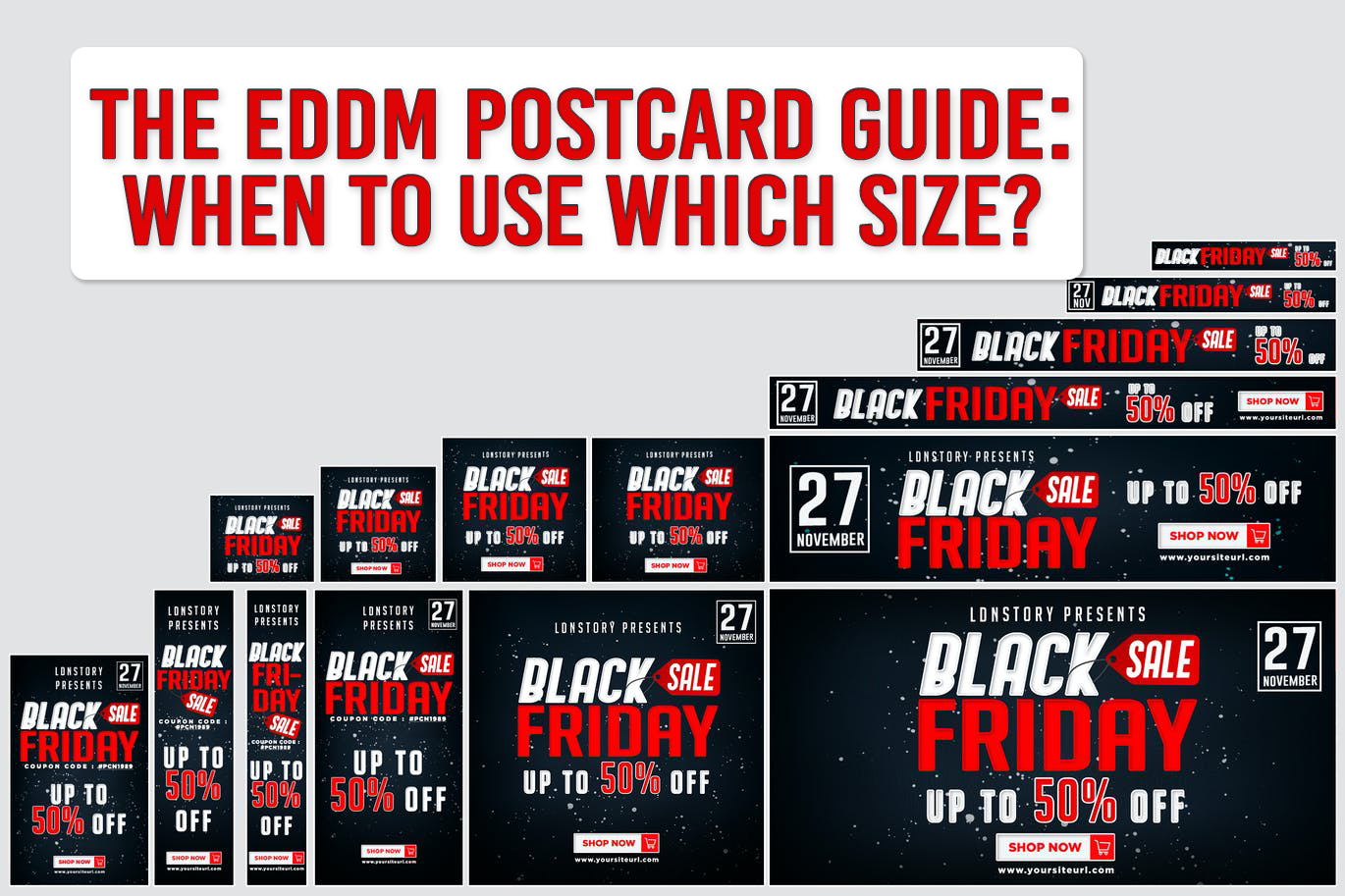 In this EDDM postcard guide, we will help you understand when to use which postcard size.
1. 4.25"x11"
This is the most economical EDDM postcard size and is ideal for singular promotions or targeting a single type of audience.
Ideal for:
Promoting Single Coupons
Short Service Lists
2. 6.25"x9"
This is the standard EDDM postcard size, and is also known as the 'workhouse' variant. Larger than half a sheet of printing paper, it gives your mailer better visibility than other envelopes in the mail.
Ideal for:
Regular Promotions
Promoting Multiple Coupons
Concise Service Description
Vertical/Horizontal Images
3. 6"x11"
This EDDM postcard size has the same versatility as the standard size option. It is mostly used as a poster-type advertisement with a vertical content structure.
Ideal for:
Regular Promotions
Vertical Images
Promoting Multiple Coupons
Elaborate Service Description
4. 8.5"x11"
This variant is big but not in a way that it overwhelms the viewer with an influx of information. You can use its vast space in several creative ways to entice your audience to keep reading.
Ideal for:
Large Visuals
Displaying Services in Action
Promoting Multiple Coupons
Extensive Service Description
Showcasing a Store's Environment
5. 11"x17"
This EDDM mailer is ideal for sending out several marketing messages simultaneously. It has multiple folding options and is usually paired with 'gloss paper'.
Ideal for:
Service Brochures/Leaflets
Restaurant Takeout Menus
Promoting Events
Extensive Service Description
Promoting Multiple Offers
Product Catalogues
Large Visuals
6. 12"x15"
As the biggest EDDM mailer size, this flyer can help you make a long-lasting impression on your recipients. The size itself makes it stand out in the mailbox. You can explain every aspect of your service with relevant visuals.
Ideal for:
Product Guides
Extensive Service Description
Image-heavy Product Catalogues
Promoting Events
Large Visuals
Promoting Multiple Offers
All the above EDDM postcards have the same postage rates. You can benefit from these rates and use various mailer sizes for different kinds of promotions.
We hope our EDDM postcard guide gives you an insight on when to use which EDDM mailer size, in order to maximize the efficiency of your campaign messaging.