Every Door Direct Mail® is a direct-response marketing channel authorized by the United States Postal Service®. It is a simple way to reach highly responsive customers through basic demographic data.
The USPS offers several sizing options when it comes to EDDM mail. The smaller ones are called 'postcards' while the ones with larger proportions are known as 'brochures'.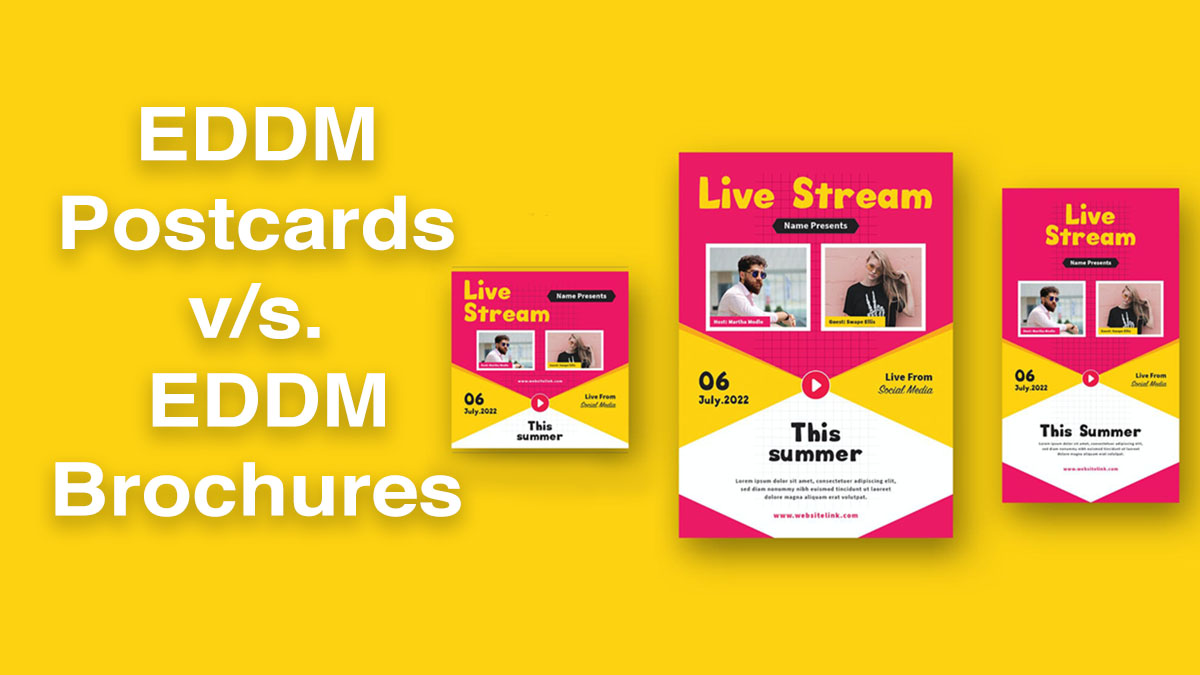 This blog will discuss when to use each of these EDDM mailers.
EDDM Postcards vs EDDM Brochures
Postcards
Postcards are ideal when trying to send out concise marketing messages to get your audience to contact you directly. An EDDM postcard appeals to the eye with clean visuals, and they don't require much space in the mailbox or the viewers' house. Postcards are faster to design and print and are more economical to produce.
Most EDDM vendors allow lower postage rates on postcards than brochures.
Brochures
Does your product or service need detail-specific information with elaborate visuals? EDDM brochures are more capable of delivering large amounts of information than postcards. They can be easily delivered as display pieces, restaurant takeout menus, event guides or add-ons for company media kits. They are also used for multi-purpose design models such as catalogs, half-folds, bi-folds, tri-folds, flyers/leaflets, etc.
When to use them together
Suppose your marketing strategy can benefit by using both these marketing materials. In that case, you can send out large-scale campaigns that use the postcards as an introduction and brochures as a follow-up.
For example, after listing out your services in an EDDM postcard and sending them out, you can deliver EDDM brochures to elaborate on the details of your offerings.
Postcards can be used for coupons, single marketing messages, etc., while brochures are ideal for promoting additional information, displaying testimonials, answering common service-related questions, etc.
The topmost priority is to create an attractive mailer design that positively represents your business. When it comes to EDDM Postcards vs EDDM Brochures, your campaign's success depends on the functionality of each of these mediums in carrying across your marketing message effectively.