There is a significant amount of base work involved when you're trying to create a responsive, USPS®-compliant EDDM campaign.
EDDM® requires you to fill out paperwork, use specific design guidelines, target the appropriate routes for your service, print postcards, create mailing bundles, etc. to get your campaign approved by the USPS®.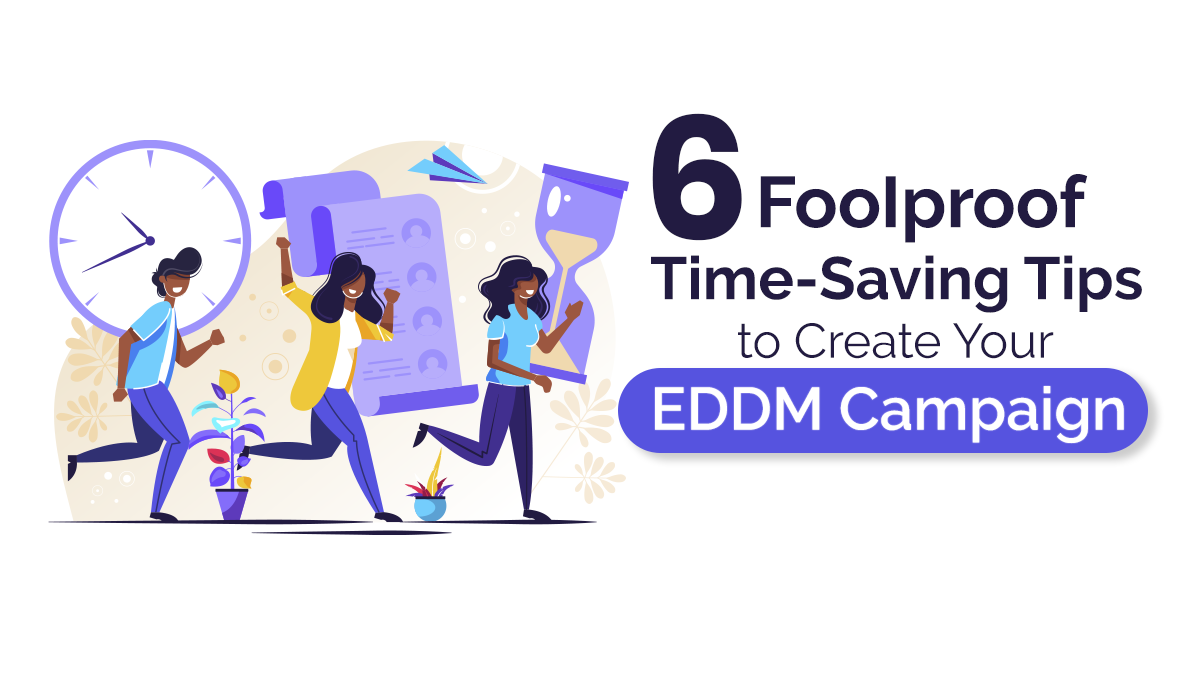 This can be a daunting set of tasks in theory, but with our list of time-saving EDDM tips, you can create your campaign significantly quicker.
The USPS® has specific requirements for EDDM mailers to be a certain size, thickness, and shape. Save your time and money by following these guidelines in the first-go itself. Familiarize yourself with the USPS® instructions beforehand so you don't end up printing postcards that can't be delivered.
EDDM mailer templates ensure your flyer design is already USPS-compliant. Keep your postcards within the required dimensions, and label the postal address and indicia marks directly on the mailers. Most EDDM vendors will also allow you to order custom designs for your EDDM campaign.
You can distribute your EDDM mailers to mail routes closest to your store location. In this way, you can target all the surrounding neighborhoods when you're looking to create quick EDDM campaigns consisting of households in your service area.
The USPS® EDDM facing slips lets the USPS know how to mail and deliver your postcards. You can simply fill out the information on one EDDM facing slip and make photocopies for the other mail bundles. The USPS® offers EDDM facing slips on its website for both EDDM Retail® and EDDM BMEU®.
This is one of the best time-saving EDDM tips as filling out facing slips can take up a portion of your campaign's schedule.
5. Weigh your EDDM mailer bundles
Mail bundles need to be in 6" high stacks. They must contain between 50 to 100 EDDM postcards. Rather than counting mailers in each bundle, you can weigh them on a digital scale for high accuracy. Just count the mailers in the first bundle and record its weight, then weigh the remaining bundles according to that data.
6. Print a few extra mailers
Print 5 to 10 extra mail pieces, just in case some postcards from the original set get damaged during transit or bundling. Why deviate from the USPS-compliant 6" high mailing bundles when you can simply print a few extra?
Executing EDDM campaigns on your own can be time consuming, but an EDDM vendor can help you streamline the process and fast-track your advertising.
We hope you'll be able to benefit from our time-saving EDDM tips for creating a successful EDDM campaign.
Are you looking for an end-to-end customer experience for your EDDM campaign?
Take the shortcut to EDDM campaign success with Geofactor.
Be it your campaign's paperwork, designing USPS-compliant mailers, preparing mail bundles, using the correct indicia markings – Geofactor has got you covered from start to finish as a USPS®-authorized EDDM vendor.