Every Door Direct Mail® allows you to map out your target mailing areas based on basic demographic data. You can create an EDDM campaign 30 days before you start mailing them to your prospective customers.
Because of its simple targeting method and lower postage rates, most marketers have the following doubts before getting started with EDDM®
When should you use EDDM?
Which businesses should use EDDM?
When should you not use EDDM?
Which businesses should not use EDDM?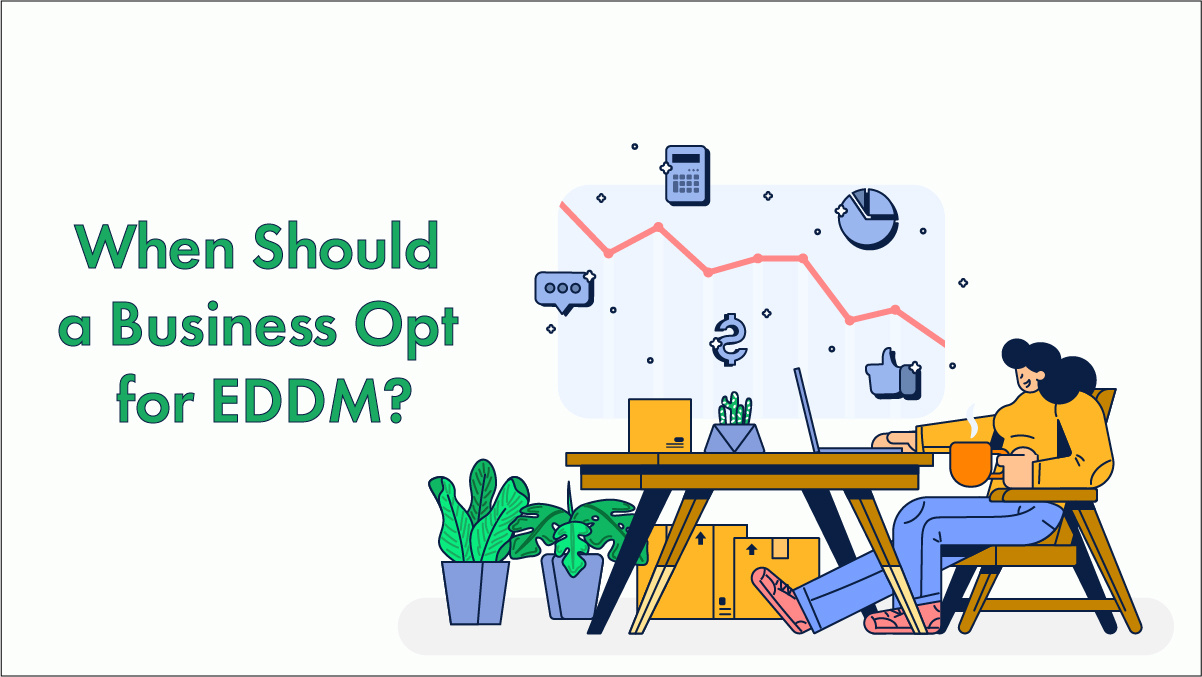 Let us answer these 4 basic questions to help you gauge if your business is EDDM-friendly.
When should you use EDDM?
1. When your service offering appeals to a large audience
Since you're targeting entire geographic locations, your business needs to appeal to most people in that area. If your business provides broad appeal services such as dry cleaners, restaurants, grocery stores, etc. then EDDM is highly suitable for you.
2. When you're trying to increase local brand awareness
Local brand awareness entails promoting your business to customers close to your service area. With EDDM, you can send out your marketing message to every household within selected ZIP codes. Thus, you can easily reach almost every local customer within your market area. The USPS allows you to deliver 5,000 mail pieces per neighborhood without the need for a postal permit.
3. When you lack a marketing budget to mass promote your brand
EDDM was specifically designed for small businesses falling short on their budget allocations. It is cheaper than most direct mail alternatives, and the postage rate for EDDM postcards of all sizes is the same. The cost of postage per mailer is as low as 18 cents.
When should you not use EDDM?
1. When you need specific customer demographics
While you can send your mailers to all households in your preferred ZIP codes, you can't target specific customers with basic information such as age, gender, and income. This makes it difficult to reach a niche audience for your business.
EDDM can only estimate and provide you with neighborhood demographic ranges, e.g., age range, income level, family size, etc.
2. When you have to send out mailers in unique shapes and sizes
EDDM mail pieces need to be USPS-compliant, and therefore, must match the specific shape, size, and weight criteria. If your postcards regularly need to be sent in a different format than the official EDDM requirement, then it may not be suitable for your brand.
3. When you have to highly personalize your marketing message
EDDM uses a bulk mailing method where a single design is mass-produced and sent to every household in a neighborhood. Therefore, it is impossible to personalize it with specific names, postal addresses, etc.
On the other hand, Direct Mail lets you target even specific people in a household with individual demographics. You can personalize your marketing message by using your recipient's name in the greetings and using their residential address.
Which businesses should use EDDM?
Retail Stores
Grocers
Beauty Parlors
Spas and Salons
Real Estate Services
Restaurants
Which businesses should not use EDDM?
Gaming Parlors
Travel and Tourism Services
Vegan Essential Stores
Pet Accessory Stores
Whole Food Stores
Any business can use EDDM®; however, some enterprises may not benefit as much as broad appeal industries. It is suitable for almost all kinds of small businesses that people seek out on a daily basis. EDDM can significantly expand your local reach at lower marketing expenses than other advertising channels.
The USPS® allows you to deliver 5,000 mail pieces per neighborhood without the need for a postal permit. However, with Geofactor you can send as many pieces of EDDM mail as you need as there are no limits to how much mail we can enter into a BMEU or DDU.