A portion of your EDDM campaign's success depends on your mailer design. Every Door Direct Mail®, as a USPS®-authorized marketing channel, allows you the freedom to create your EDDM flyers based on your creative preferences.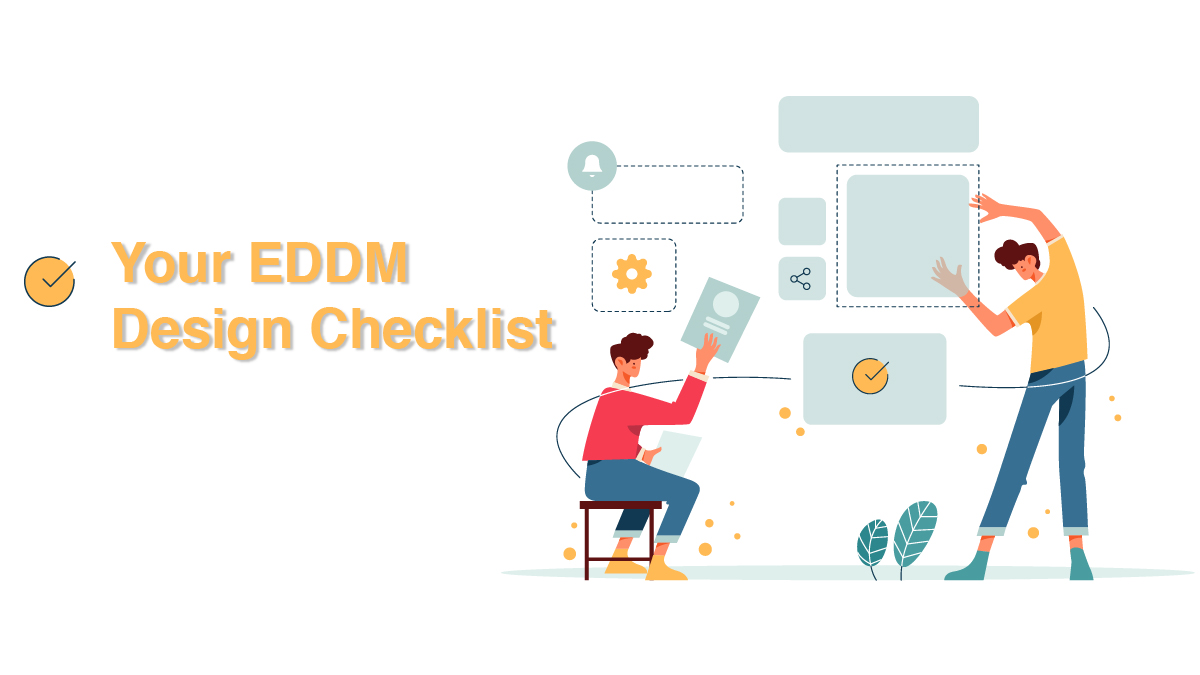 This blog will discuss 8 of the most useful EDDM design tips to help you get started with creating your EDDM mailer.
1. Choose the appropriate mailer size
You can't start designing your EDDM postcard without knowing its proper dimensions. The size of your flyer can change your visibility in the mailbox drastically. While larger mailers stand out more, smaller ones are more economical and can be stored to read later.
The most popular postcard sizes for EDDM are:
4.25"x11"
6.25"x9"
6"x11"
8.5"x11"
Other sizes include:
2. Use the right colors
The color scheme of your EDDM mailer conveys a lot about your brand. It sets your brand's tonality and ensures brand recall amongst your customers. The more your audience sees these colors and patterns, the more likely they are to associate them with you.
Some colors and their implied tonality are:
Red – Power, Love, Aggression
Orange – Balance, Creativity
White – Peace, Innocence
Yellow – Positivity, Happiness
Pink – Femininity, Passion
Green – Progress, Health
Purple – Regality, Wisdom
3. Pick out relevant visuals
You can search for stock images on the web, use your own clicked photographs, or purchase custom illustrations for your mailer's visuals. Your pictures depend on your industry type and your marketing message. Ensure that you use high-quality images exceeding 1200 dpi.
4. Understand the power of white space
Also known as 'negative space,' it doesn't have to be necessarily white. Passive white space is naturally occurring, such as a small space between the text and the logo. 'Micro white space' refers to the gaps between design elements to separate them. And 'macro white space' is large unused portions between the layout.
The function of all these types of white spaces is the same, i.e., guiding the viewers to important information or messages that you want them to remember.
5. Use clear call to actions
Your campaign's success greatly depends on your offers. Keep them short and clear, as most of your viewers will base their purchase decisions on them. This is one of the most critical EDDM design tips, as your mailer doesn't necessarily need to be wordy, but the CTA can make or break your postcard's efficacy.
Ensure that your CTAs are bold and can grab the attention of any reader at first glance to get them to read further.
6. Paper quality conveys brand image
Enhance your mailer design with the appropriate paper type. Marketers commonly use 'gloss paper' and 'matte paper' for their EDDM postcards. EDDM booklets consist of various finishes such as uncoated pages, varnish, aqueous, etc.
For example, luxury spas and restaurants can use gloss paper for conveying their brand's ambiance.
7. Proofread your design
Proofreading is not just limited to text. Before printing your EDDM postcards, ensure that you send them to the copier without any design mistakes. Your visuals need to complement your color scheme and brand tonality. Remember to review all your tracking information, such as QR codes, PURLs, etc.
8. Test your EDDM design
A/B testing is a must to know what kind of flyer designs can work for your brand. Split your audiences in half and experiment with different mailer designs for various types of customers.
Designing an EDDM mailer is no easy task and is by far the most crucial step for creating a campaign. We hope our EDDM design tips will help you develop effective postcards for your future EDDM® projects.