Instead of designing new flyers from scratch, consider creating an EDDM design template that you can reuse and repurpose according to your new campaigns. This can help you save on marketing costs and manage your advertising budget better.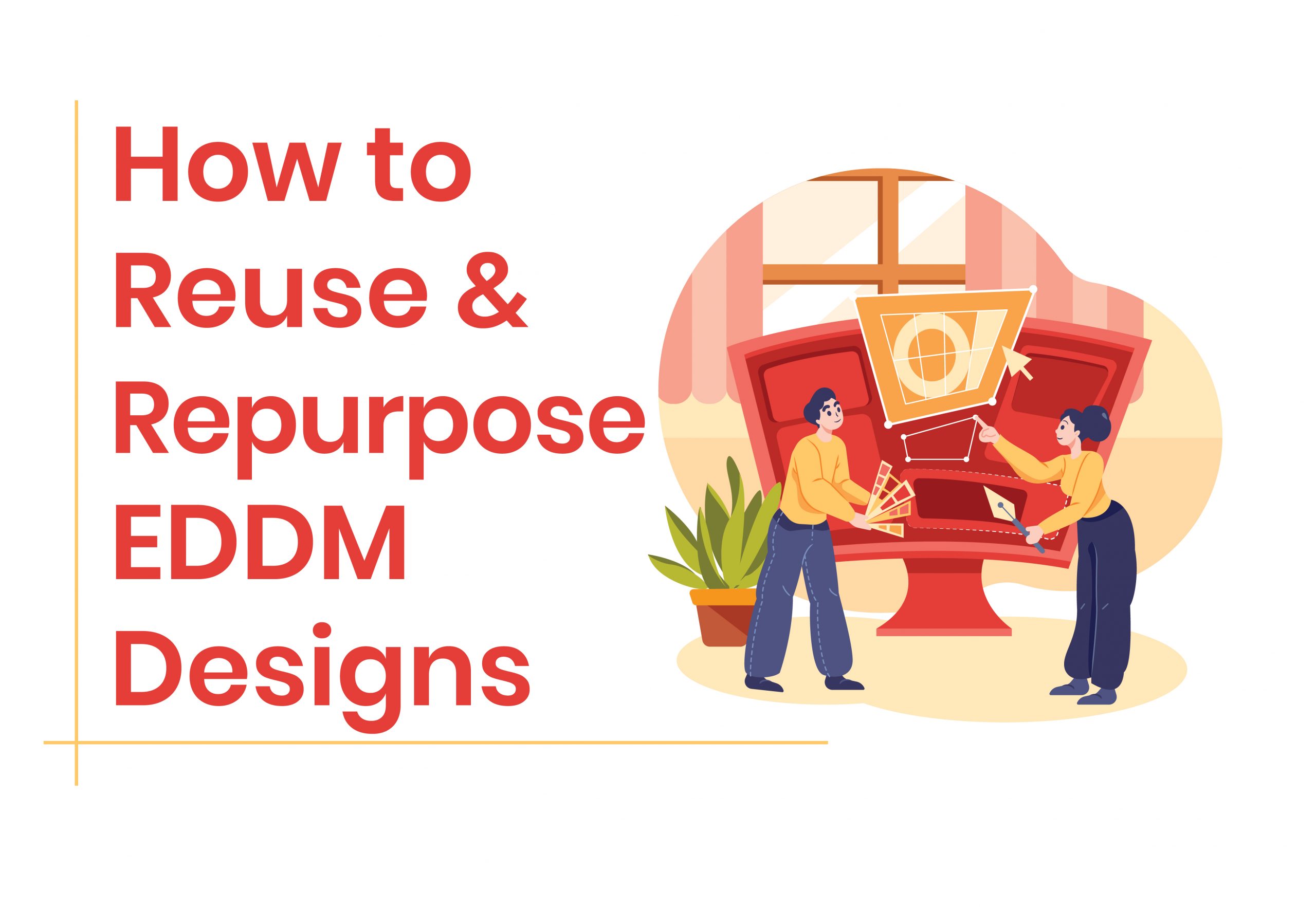 Here are a few tips to help you reuse EDDM designs by creating mailer templates:
1. Consider it as packaging
When creating the design from scratch for the first run, remember that it must not contain any actual content. Think of it as packaging or a layout for your marketing message. Label it in a way that lets you reuse this template and will be reusable for your future campaigns.
2. Choose a size
Choose a signature size for your brand for regular EDDM® mailings. You can also shift and customize your content blocks to change the mailer size for different campaigns.
3. Place your logo
None of your EDDM® mailers will garner responses without proper branding. People expect to be greeted by your name every time they receive your mailer. So, ensure that you place your logo in a prominent space. By having a designated location for the logo each time you reuse and tweak a mailer design for a new campaign, you can improve brand retention by making your customers familiar with your branding.
4. Add content blocks, negative space, and dividers
Plan the layout of your template by adding space for content. Divide the content blocks with white space and partition your EDDM mailer with dividers for different portions. These elements can later be restructured into different layouts for future campaigns. You can only reuse EDDM designs since your content will vary depending on your campaign type and marketing goal.
Don't forget to add blocks for these elements:
Headlines
Images
Description
Call to action
Contact information
This will allow you to quickly fill in your content and create a new campaign within minutes.
5. Use appropriate colors
Match your EDDM design template's theme with your brand's colors. Choose a set of 2 to 4 colors for optimum retention and appropriate branding. Your mailer colors can remain the same for every campaign.
6. Test your design on different devices
After creating a digital layout, see how it looks on various devices such as your phone, tablet, laptop, etc. This can help you see your design with a different perception and gauge its effectiveness on the recipient. You can then restructure your design and make it more responsive according to your marketing goal. You can reuse this method for all EDDM campaigns to understand whether your marketing message works well with your mailer design.
Once the EDDM design template is ready, you can reuse and repurpose it based on your campaign requirements. All you have to do is fill in the content, print it, and stamp it – and your campaign is ready.
Now you can reuse EDDM® designs every time you create a new campaign and create different templates based on your marketing goals. Simply alter your content and change other parts of the mailer according to your campaign's requirement.